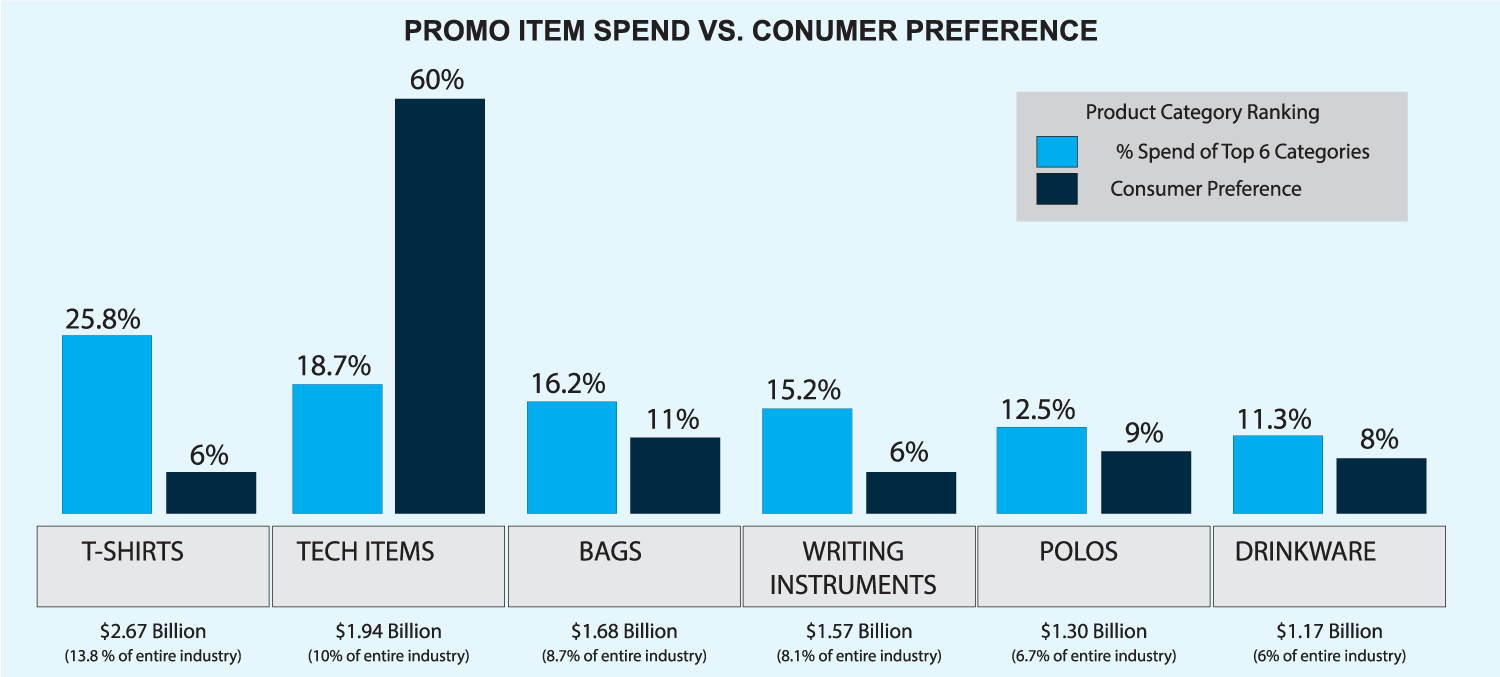 According To Monitor's Latest Consumer Insights Study, What Buyers Spend Does Not Always Align With Consumer Preference
In 2018, $20 billion was spent on promotional items with the top 6 product categories listed below representing over half that spend1. It's critical to buyers that the promo items they buy positively influence their targeted consumers. But according to Monitor's latest Consumer Insights study, purchases don't always align with consumer preference. Three key findings are summarized below.
#1 Consumers Overwhelmingly Prefer Tech Items
60% of US consumers we surveyed said they would prefer to receive a Tech Item premium over the other top 6 product categories. This preference is significantly higher than the 18.7% buyer spend rate in 2018. The fact that tech items are the overwhelming favorite is no surprise given our society's addiction to smartphones, tablets and technology. The good news is that we are always seeing new, innovative tech products - both inexpensive and high-end - hit the market. As a result, Monitor expects to see continued growth in the tech items category and the possibility of it taking over T-shirts as the number one product category.
#2 Disconnect Between T-Shirt Spending and Consumer Preference
An equally interesting result of our study is the discrepancy between the amount spent on the number one category, T-shirts, and consumer preference. With over $2.6 billion spent on T-shirts in 2019, it is confounding that only 6% of consumers prefer to receive a T-shirt over any of the other Top 6 items. What else does the data show? Writing Instruments, with 6% consumer preference, also have a disproportionately high spend rate of 15.2%. Also, of the Top 6 Categories, Polos and Drinkware ranked 5th and 6th but consumers slightly preferred both over the T-shirt category even though significantly more is spent on T-shirts than the Polo and Drinkware categories combined. Don't get us wrong, we still think there is a very important place for promotional T-shirts, but this study makes the case to consider a shift in spending.

#3 Will Consumers Wear Your Logo?
To help maximize branded apparel investment, we asked consumers about their use of free promotional items in various categories. 19% of Monitor's survey respondents said they will not wear a free T-shirt if they don't have an affinity to the logo on the shirt. Alternatively, only 5% of respondents said that they would not use a Writing Instrument if they don't have an affinity with the logo and only 10% - a Tech item. Recognizing that other important factors like apparel style, color, fit and artwork influence the overall success of an apparel project, this data still provides an important reminder: Apparel is more tied to an individual's identity than a pen or tech product. The implications of this vary depending on the project. For example, T-shirts may be best reserved for a "more loyal" target audience, while pens or tech items could build awareness more effectively among a "less vested" group.
For help with your next promotional item program, please contact us.
1 Ad Specialty Institute SOI 2019
© Monitor 2019